Your purchase includes the following items:

2007 Model JPEG2000 DVR BARE BONES
Bare Bones Unit. No HD. No CD or DVD. No VGA Card

4 Channel JPEG2000 Digital Video Recorder with 4 Audio Inputs, USB Port for exporting video, Internet Ready for Remote Viewing.

1

Hand Held Remote Control.
(Included in every DVR box)

1

DVR Power Supply.
(Included in every DVR box)

1

Power Cable.
(Included in every DVR box)

1

Rack Mount / Hardware Kit.
(Included in every DVR box)

1

CD / DVD Access hole cover plate. (Included in every DVR box)
Used to cover the hole on the front of DVR if no CD or DVD ROM is installed

1

Paperback User Manual.
(Included in every DVR box)

1

Remote Client & Back Video Player Software CD.
(Included in every DVR box)
Build Your DVR System


JPEG2000 4 Channel Digital Video Recorder
Bare Bones Unit. No HD. No CD or DVD. No VGA Card


Base Price $490.00
Base Price Includes just the
DVR with No CD or DVD.
No Hard Drive.
No VGA Chip
You Can Add These Options Below

$99.00
Each.

250 Gigabyte Hard Drive Installed
(Two Maximum Per DVR)
$189.00
Each.

500 Gigabyte Hard Drive Installed
(Two Maximum Per DVR) - $189.00 HOT DEAL!

$29.00

Let us Install a CD-R Burner for you.
(Only Burns CD-R Disks)
A CD-R will hold 750MB of video

$59.00

Let us Install a DVD+R Burner for you.
(Burns both CD-R and DVD+R disks)
A DVD will hold 4.4 Gig Of Video

$15.00

CD-R / DVD Mounting Bracket Kit
(Two Bracket Set)

$29.00

512 Megabyte Thumb Drive
Pre Formatted to work with JPEG2000 DVR

$39.00

1 Gigabyte Thumb Drive
Pre Formatted to work with JPEG2000 DVR

$249.00

20 User Remote Access Upgrade Server.
Also Adds Remote Administration Capabilities as well as fast remote video playback.
(Learn More)

$50.00

Needed to use a VGA computer type monitor. The DVR has has two composite video outputs that do not require this card.

$32.50

Spare / Replacement Hand Held Remote Control

$24.00

Super Mini Powerful Microphone
(Four maximum can be connected to DVR)

You can find other useful information like user manuals at (Support)
Features:
-Triplex - Record, Remote View and Playback.
(System keeps recording when in Triplex Mode)
-Real time display.
-Multi-Language Support
(English, Spanish, German, Italian, French)
-Two Hard Drive Bays and One CD / DVD Bay
-Backup Video to USB Thumb Drive through USB port.
(All Systems come with 512 Meg Thumb Drive)
-Backup Video to DVD disk
(4.4 Megabyte, Requires DVD Burner - Optional)
-Backup Video to CD-R disk
(700 Megabyte, Requires CD Burner - Optional)
-You can also connect a external USB hard drive.
-Four Video Inputs.
(Connect any composite video source like a CCTV camera)
-Four Video Pass-Through Ports.
(Used to run one camera to a separate monitor or another recorder)
-Four Audio Inputs
(RCA).
-RJ45 Ethernet Port - View Video Through Local Area Network Or The Internet.
(This DVR connects to your router just like any PC would. Requires Ethernet cable - Not included.)
-Built In Pan Tilt Zoom Controls.
(Also controllable through the Internet Interface)
-RS-485 Port for connecting Pan Tilt Zoom Cameras
-RS-232 Port for use with 20 User Remote Administration Access Interface (Option) Learn More Here
-Two Composite Video Outputs:
Spot Video Output - Administrator views separate video other then what the public monitor is displaying.
Standard Video Output - Used for Public Display - Will not display video during playback. (stays in live view)
-Four Alarm Inputs (Dry Contact)
-Four Alarm Outputs (Dry Contact)
-JOG Shuttle for precise video playback frame by frame. (Also has other uses)
-Digital Zoom - Both in live view and playback.
-Video Freeze Feature
-Playback speeds are 1X 4X 8X 16X 32X and 64X - Go through a lot of video fast.
-Recording Modes - Continuous, Alarm, Motion, Schedule
-Motion Activated Recording - Record only when something is moving in front of cameras.
No External Motion Detector Required.
-Search Video by Event, Time and Date or Jog Shuttle
-PIP - Picture in Picture Feature.
-View all four cameras at one time or one at a time. (Sequence Mode)
-Covert Camera Feature. (Set any camera to record but not be displayed live)
-Four Levels of Video Recording Quality - (Super Fine, Fine, Good, Basic)
-Four Levels or Image Recording Sizes (720 x 240, 320 X 240, 192 x 100 and 10 X 50)
-Adjustable Frame Rate - 1/1 (Full Speed) to 1/99 (Extreme Time Lapse)
-Active Production - These models are still in production (Free Firmware Updates)
-Firmware Update can be via USB or CD.
-System Weight with no features installed - Roughly 20 LBS.
-Many more features then listed here.

User Manual Download (Click Here)
JPEG2000 Support Page (Click Here)

Product Images:

Close-up of left side of DVR control panel.
Left USB port used for backing up video to USB device.
Right USB port used for updating the DVR firmware.



DVR with no CD or DVD burner installed.




DVR with CD or DVD burner installed.




Back view of the four channel Pro Series DVR
Click on this image for a close-up


Remote Viewer Screen Shot.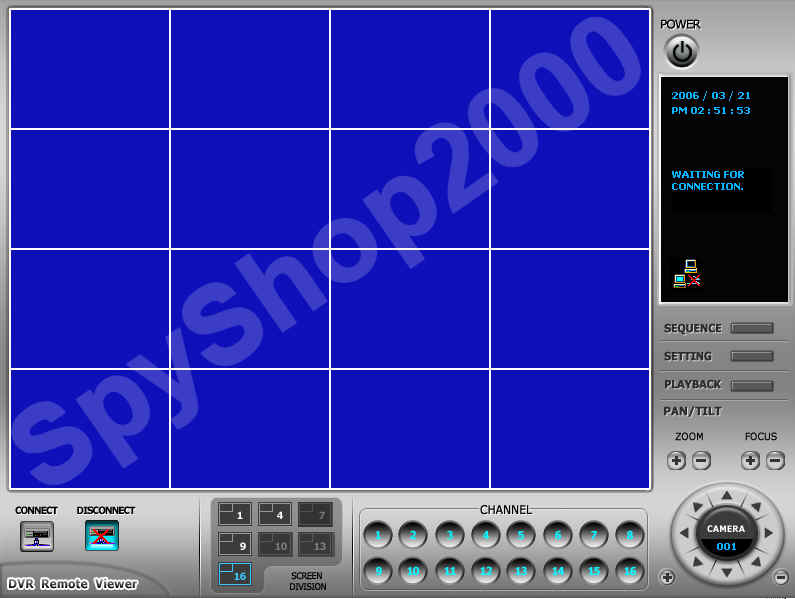 Central Monitoring Software - FREE